Happy New Year

Happy CACA 10 year Anniversary

Pittcon 2009

Pittcon 2009, Chicago, March 2009

HPLC 2010

HPLC 2010, Boston, June 2010

Pittcon 2011

Pittcon 2011, Atlanta, March 2011

Pittcon 2012

Pittcon 2012, Orlando, March 2012

HPLC 2012

HPLC 2012, Anaheim, June 2012

Pittcon 2014

Pittcon 2014, Chicago, March 2014
Nowadays, many ways of performing a quantitative microsampling study are possible and every setting may have a most suitable microsampling technique. In this presentation we'll discuss a selection of microsampling techniques, some latest yet unpublished research and an interesting new microsampling device.
Speaker:
Remco Koster, Ph.D .

Sr. Scientist, Project Manager
PRA Health Sciences
Time: Wed, Nov 14, 2018 12:00 PM - 1:00 PM EST
Registration link: https://register.gotowebinar.com/register/3848357061790434306
Choosing the most suitable microsampling technique may depend on different factors like:
Is blood or plasma desired as matrix for analysis?
Can accurate sampling be performed on location?
Are the costs for the required material and shipment of the samples an important factor?
Could the analytes irreversibly adsorb to the sampling material?
Capillary sampling can be used for plasma or whole blood analysis, while Dried Blood Spots (DBS) and Mitra VAMS can only be used for whole blood analysis and subsequent evaluation of the analysis data. While DBS may not be used in a FDA regulated setting (clinical studies) anymore, a setting which uses home sampling by patients themselves and uncooled transport of each single sample by mail to the laboratory may make DBS well suitable for this setting. The Mitra VAMS sampling tips may be an eligible successor for the DBS in this setting but may also be used in in a FDA regulated setting. Some analytes may adsorb to the sampling material like the cellulose of the Dried Blood Spot (DBS) card or material of the Mitra VAMS tip. The research into the analysis of immunosuppressants with the use of DBS showed adsorption effects, which varied per analyte, concentration and hematocrit value. Mitra sampling might be less hindered by this adsorption effect. The latest research investigated the analysis and adsorption of immunosuppressants in Mitra VAMS tips as alternative to DBS.
Key Learning Objectives:
Understand which microsampling technique is most suitable in which setting
Strategies for feasibility testing concerning the analyte extraction procedure and adsorption effects
Please register for
Molecular Modeling as a Screening Tool to Predict the Separation of Enantiomers On Polysaccharide-based Chiral Stationary Phases
When: Oct 10, 2018 12:00 PM EDT
Registration link: https://attendee.gotowebinar.com/register/6581171220259490305
Speakers: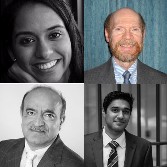 Dr. Priyanka Sharma, co-CEO, Kazmira LLC
Dr. David House, Research Fellow and Director of Chemistry, Orochem
Dr. Sohail Murad, Professor and Chair of Dept. of Chemical and Biological Engineering, Illinois Institute of Technology
Pulak Sharma, co-CEO, Kazmira LLC

In this seminar, we explore the power of computational molecular modeling to develop an efficient (time and cost) and reliable software package for screening the separation of enantiomers on polysaccharide-based chiral stationary phases. More than half of all pharmaceuticals are chiral compounds and the potential market for enantiomer separation is $1.2 billion. Although enantiomers of chiral compounds have the same chemical structure, they can exhibit marked differences in physiological activity; therefore, it is important to remove the undesirable enantiomer.

Chromatographic separation of chiral enantiomers is one of the best available methods to obtain enantio-pure substances, but the optimization of the experimental conditions can be very time-consuming and expensive. The large number of chiral compounds, mobile phase possibilities, and chiral phases can lead to hundreds of possible combinations. Typically, the industry relies on educated guessing and chromatographers try many different combinations. This has hindered progress for developing new drugs, especially orphan drugs. Our software package will allow the initial screening to be done computationally with only a limited number of experimental studies needed to complete a project.

Key Learning Objectives:
• Understand the power of molecular modeling for screening studies of chiral separations
• Optimize operating conditions using the developed tools
• Strategies for developing new column morphologies for separations

About Orochem:
Orochem has manufactured sample preparation, chromatography and protein research products in USA over 22 years. It invests heavily in R&D in-house and owns strong intellectual property in stationary phases for achiral and Chiral Chromatography

After registering, you will receive a confirmation email containing information about joining the webinar.